My book club chose a wonderful read for June: The Rosie Project. Here's my review: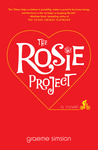 The Rosie Project by Graeme Simsion
My rating: 5 of 5 stars

A Man with Asperger's Delightful Journey to Love

Books like these make me appreciate my book club even more because I probably wouldn't have tried it without my friend Colby picking it this month.

Don Tillman is a 39-year-old genetics professor in Australia who knows he is socially inept but doesn't know he has a raging case of Autism Spectrum Disorder. He would like to date but his difficulties with emotions and subtleties of interactions have made that difficult. Being the scientist he is, he decides to write a questionnaire for potential partners he dubs "The Wife Project". He believes his data driven approach will weed out unsuitable candidates.

He's friends with a married psychologist couple, Gene and Claudia, and they try to help him sort out these puzzling social interactions. Sadly, Gene and Claudia are his only friends.

When Don attends a dating event, his unique perceptions of the world are hilarious.

Olivia resumed talking to me while the others engaged in small talk — an extraordinary waste of time when a major life decision was at stake. On Claudia's advice, I had memorized the questionnaire. She thought that asking questions directly from the forms could create the wrong "dynamic" and that I should attempt to incorporate them subtly into conversation, Subtlety, I had reminded her, is not my strength. She suggested that I not ask about sexually transmitted diseases and that I make my own estimates of weight, height, and body mass index. I estimated Olivia's BMI at nineteen; slim, but no signs of anorexia.

Every time Don meets someone new, he mentally calculates their BMI. BA HA HA! I've met quite a few characters through dating but I've never had one come out and ask me my BMI–Don would totally do that if not for Claudia's advice.

Don's friend Gene sets him up with Rosie, a "barmaid". Rosie comes over for dinner prepared by the excellent cook Don.

I commenced retrieval of vegetables and herbs from the refrigerator. "Let me help," Rosie said. "I can chop or something." The implication was that chopping could be done by an inexperienced person unfamiliar with the recipe. After her comment that she was unable to cook even in a life-threatening situation, I had visions of huge chunks of leek and fragments of herbs too fine to sieve out.

Once Don discovers Rosie smokes and runs late, he automatically discards her as a candidate for The Wife Project. But when Rosie tells him she's trying to discover the identity of her biological father, geneticist Don is suddenly all in to helping her with The Father Project.

They narrow down potential fathers based on her mother's medical school class, and proceed to obtain DNA samples from over fifty men in a madcap manner.

Don eventually learns that Rosie is a doctoral psychology student who's smarter than she seems. Don and Rosie test a sample from one probable father.

"But I've never consciously thought of him as my father."
"He's not," I said.
The results had come up on the computer screen. Job complete. I began packing up.
"Wow," said Rosie. "Ever thought of being a grief counselor?"
"No. I considered a number of careers, but all in the sciences. My interpersonal skills are not strong."
Rosie burst out laughing.

Don is just so damn endearing! The funniest scene is when Don and Rosie pose as bartenders at a medical school reunion in order to swab cocktail glasses. Memorizing orders and drink recipes is where computer-mind Don excels, and he performs so well that the bar owner wants to go into business with him.

Equally funny is when Don wants to woo a ballroom dancing champion, so he practices his dance moves with a skeleton from a nearby lab. When he tests out his dance moves in front of a crowd, he learns Unfortunately, this requires cooperation on the part of the partner, particularly if she is heavier than a skeleton.

When Don decides he would like to have sex with Rosie, he talks it over with Gene:

"So why the stress?" said Gene. "You have had sex before?"
"Of course," I said. "It's just that adding a second person makes it more complicated."
"Naturally, said Gene. "I should have thought of that. Why not get a book?"

So Don buys a book and memorizes all the sexual positions. Naturally, he brings out the skeleton again for practice, and naturally, the dean walks into his office while Don is getting into compromising positions on the floor with the skeleton. *laughs*

In addition to the charming humor, there's some depth to this story about love and growth. I definitely want to read the sequel. Highly recommended.

View all my reviews